Juarez Violin Kit, Full Size 4/4 White Pine Top, Solid Maple Back & Sides, Jujube Pegs, Chinrest & Tailpiece with Hickory Wood Bow,Rosin, Full Tone Sticker, Mute, Bridge, Oblong Case, Black onyx 4/4 Semi- Acoustic Violin(Black onyx Yes)
Violins are available in 8 different sizes: 4/4 (also called full size), 3/4, 1/2, 1/4, 1/8, 1/10, 1/16, and 1/32. Size 4/4 is the biggest and size 1/32 is the smallest. All adults, regardless of their size, use the size 4/4 violin. To measure what size violin best suits you. You need to know the length between your neck and the middle of your left-hand palm. The violin size determined by the neck/mid-palm approach would be the biggest size students should use. With its redwood fingerboard and fittings, beautiful antique varnish finish, and exceptional tone and resonance, the Juarez CollJ RV313 is an effective and capable instrument for any student who is just starting to learn the violin. Emphasizing superior clarity, remarkable responsiveness, and a pleasantly bright and warm tone for a lively yet smooth feel, JRV313 provides students with a durable and reliable instrument that they can be confident will not hinder their development on the violin. Violins are prudently crafted with the best of orchestral components and flawless wood to bring together an elegant combination of design, quality, and art. These violins are crafted to allow players of all genres be it Indian Classical, Hindustani Carnatic, Western classical, or Oriental notes to accomplish their practice and performance goals. This kit is inclusive of all major accessories namely a bow, rosin, and a hard case that allows users to get an all-in-one pack to play their beloved instrument.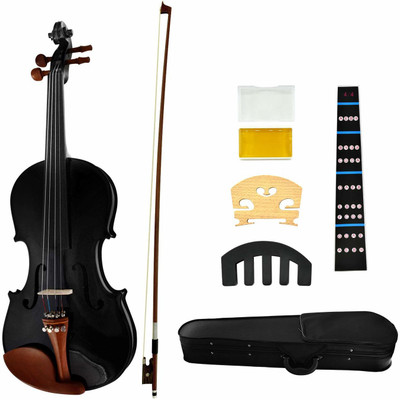 User Reviews
Only logged in customers who have purchased this product may leave a review.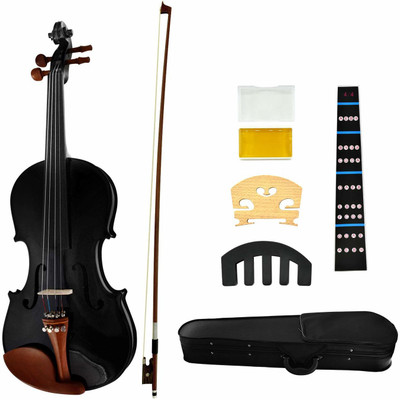 Juarez Violin Kit, Full Size 4/4 White Pine Top, Solid Maple Back & Sides, Jujube Pegs, Chinrest & Tailpiece with Hickory Wood Bow,Rosin, Full Tone Sticker, Mute, Bridge, Oblong Case, Black onyx 4/4 Semi- Acoustic Violin(Black onyx Yes)