SOUNDPROOF ACOUSTIC SOLUTION Foam Pyramid Wall
Soundproofing and acoustic treatments are most important to reduce slap back sounds, echo, reverberation, blocking sound and isolate the sound frequencies. Acoustic Foam is best to reduce high and Mid frequencies at different Hertz. However they also absorb some amount of low frequencies too. S.A.S Acoustic foam is made with German infrastructure to provide precise cuts for maximum sound diffusion and absorption of the sound waves. Sound hitting the acoustic foam surface gets diffused and absorbed by technical designing on the surface of the acoustic foam panel providing the best quality sound recording and playback. S.A.S Acoustic Foam is the only acoustic foam panels in India which provides guaranteed acoustic treatment on 50% wall coverage and also sound isolation on 100% wall coverage, SOUNDPROOF ACOUSTIC SOLUTION Foam Pyramid Wall, https://www.flipkart.com/soundproof-acoustic-solution-foam-pyramid-wall/p/itm5896ad3ec3264?pid=FWLFVM7RYA3T538P&lid=LSTFWLFVM7RYA3T538PLN06QN&marketplace=FLIPKART&store=ypu&srno=b_3_94&otracker=dynamic_omu_infinite_Dhamaal%2BDeals_2_1.dealCard.OMU_INFINITE_417GEO9TFKK3&fm=neo%2Fmerchandising&iid=22988755-fda6-4d18-9642-e8fd32fc151c.FWLFVM7RYA3T538P.SEARCH&ppt=browse&ppn=browse&ssid=y60afrntf40000001633661375802, 1480, INR, SOUNDPROOF ACOUSTIC SOLUTION,
Specification:
SOUNDPROOF ACOUSTIC SOLUTION Foam Pyramid Wall
| | |
| --- | --- |
| Number of Panels | 18 |
| Brand | |
| Model Number | SAS-PB18 |
| Color | |
| Form | |
| Panel Length | 30.4 cm |
| Panel Width | 30.4 cm |
| Panel Thickness | 5 cm |
| Weight | 700 g |
| Other Dimensions | 18 |
| Warranty Summary | Warranty is valid on damaged product only. Product is certified to perform on 40 percent wall coverage. For any other complaints and services contact our helpline 8802341143 |
| Covered in Warranty | Return and refund after inspection of the product at our premises |
| Not Covered in Warranty | Product damaged due to mishandle by shipping company and customer under any circumstances |
10 reviews for
SOUNDPROOF ACOUSTIC SOLUTION Foam Pyramid Wall
Only logged in customers who have purchased this product may leave a review.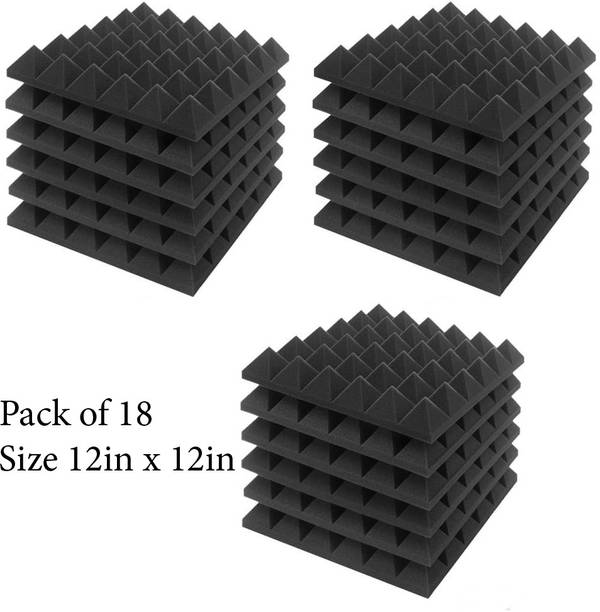 SOUNDPROOF ACOUSTIC SOLUTION Foam Pyramid Wall
Last updated on October 8, 2021 2:52 am